COVID-19 update:
CVAN Services:
Services: still up and running - 24-Hour Hotline and Shelter Services, Court Program and Counseling through the Hotline. Services temporarily suspended: Outreach Center; Support Groups; Jail Program; Teen Program
CVAN Thrift Store:
The Store is re-opened for Donations and Shoppers: Tuesday – Saturday (we are not currently open Monday) Go to: Thrift Store page for new guidelines.
Tucker Garden Tour:
The Garden Tour is on! The Date is changed from 6/6 and is now Sat. 6/13. Go to our Garden Tour page for more details.
Men For Change
Our 2020 Campaign is up and running! The Ad will run July 5th. And the deadline to join is 6/15. Click here to learn more!

Thank you.
---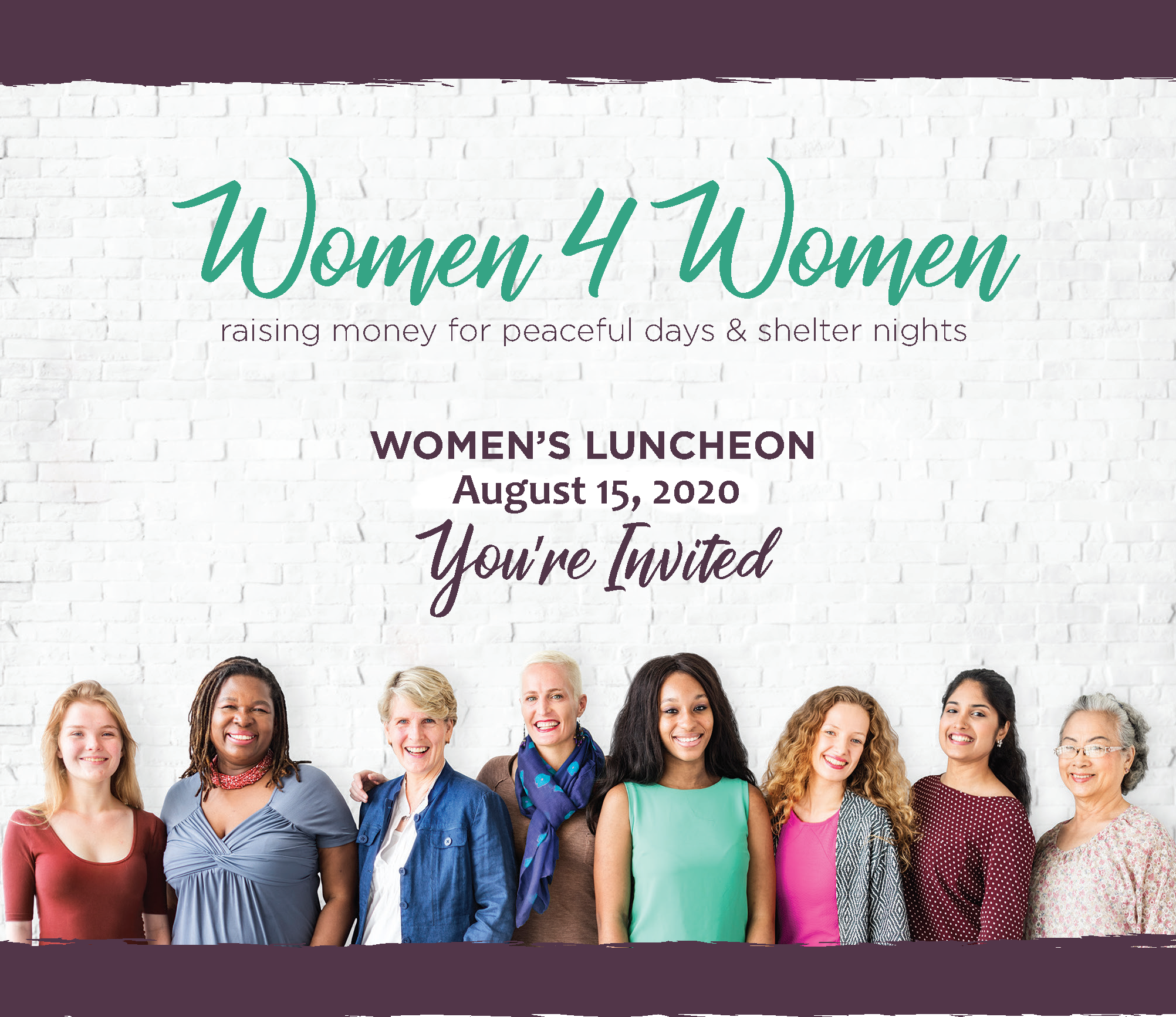 Last August, an incredible 600 of us came together for our 8th annual Women 4 Women Luncheon. We shared the struggles and triumphs of women, met with new and old friends, and together, we brought women hope. Together we raised an incredible $86,048 in one afternoon. And we are grateful for the additional generous match from Shoe Show, Inc.!
Mark your Calendar for - Saturday 8/15/20!!
Click here for pictures from past events.
---
2020 Honorary Co-Chairs:
Carolyn Tucker
Jacqueline Tucker
Lisa Tucker
2020 Committee:

Hannah Templeton Cook, Co-Chair
Hair Dresser
Coretta Grant, Co-Chair
Novant Health
Christine Barrier
NC State, Cooperative Extension Service
Alicia Broadway
City of Concord
Gail Holding
Community Volunteer
Christel Josey
Community Volunteer
Judy Stoy
Richard Petty Driving Experience, Retired
Deb Triece
Retired Educator, Retired
---
2019 Sponsors
Sterling

Stunning


Robin and Alan Davis
Dona and Jerry Hagler
Sharon and Ed Heavner
Rosemary and Mike Sullivan
Amazing


Mike and Loretta Coltrane
Leslie and Christopher Flynn
Barbara and Robin Hayes
Gail and David Holding
Deanna and Norman Shue
Wells Fargo
Dazzling

Diana and Howard Bentley
F & M Bank
Rosemary and James Loftus
Laurie and Jim Miller
S & D Coffee & Tea
Judy and John Stoy
31 Construction
Jill and Jim Wall
Marvelous


Beaver Dam Nursery
Peggy and Carl Comer
Complete Design & Packaging
Jeanne and Thomas Dixon
Coretta and Bernard Grant
Kay, Sonny and Katie Helms
Nancy and Joe Hunter
Reshell Johnson
Tina and Jon Tyler
Fabulous


Cathy Altmann
Bryan Cooks Tree Service
Lisa Burke
Karen and Vernon Byrd
Carlos Moore Architect, PA
Concord Printing Company
Doughgirls Catering
Michele Durkin
Tamara and Trip Eller
Foster Animal Hospital
D Evans and Jackie Freeze
Mary Margaret Flynn
Eileen & Bill Goolsby
Karen and David Harper
Betty & Diane Honeycutt, Allen Tate Realtors
Its All About You Salon
Sheree and Robert Kear
Bess and Kent Kercher
Laurie McLaughlin
Karen and Robert Mitchell
Margaret and Brian Moore
Helen Morrison
Annette and Scott Moss
Potter & Co., CPAs
Mary Anne and Charles Ritchie
Delinda and Rick Rodgers
Salon Autumn
Deb and Randy Triece
Sylvia Wagoner
Martha and Richard Walters
Ginger and Jonathan Zsambeky
PO Box 1749, Concord, NC 28026-1749 ~ 704.788.1108
© 2010-2020, CVAN - Cabarrus Victims Assistance Network