COVID-19 update:
CVAN Services:
Services: still up and running - 24-Hour Hotline and Shelter Services, Court Program and Counseling through the Hotline. Services temporarily suspended: Outreach Center; Support Groups; Jail Program; Teen Program
CVAN Thrift Store:
The Store is re-opened for Donations and Shoppers: Tuesday – Saturday (we are not currently open Monday) Go to: Thrift Store page for new guidelines.
Tucker Garden Tour:
The Garden Tour is on! The Date is changed from 6/6 and is now Sat. 6/13. Go to our Garden Tour page for more details.
Men For Change
Our 2020 Campaign is up and running! The Ad will run July 5th. And the deadline to join is 6/15. Click here to learn more!

Thank you.
---
Shop Donate Volunteer!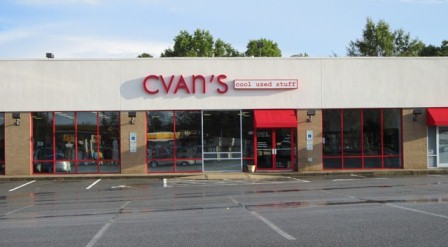 CVAN's Cool Used Stuff
Location:
543 Concord Parkway N. (in front of old K-Mart)
Concord, NC 28027
Phone: 704.721.9020
Hours:
Tues-Fri 10am - 6pm (change from Mon – Fri)
Sat 10am - 5pm
COVID-19 UPDATE
Re-opened for Donors and Shoppers
Change in days open:
Not currently open on Monday
We are open:
Tues – Friday 10am to 6pm
Sat – 10am – 5pm
Change in donations accepted:
Furniture – Not able to accept at this time (unless: it is small enough to carry in by yourself/without CVAN staff assistance)
Guidelines to help keep yourself and others safe:

Number of customers will be limited, following available guidelines
Please wear a mask
Please stay 6ft apart
Our public restroom is closed
Dressing rooms are closed
Please keep your children with you at all times
At our store, you will find a great combination of fabulous bargains in an inviting atmosphere !
In case you have not yet visited us - we sell:
All clothes, household / housewares, accessories, books, DVD's CD's and linens.
All our profits go directly to helping battered women and their children find safety, shelter and support through our many services.
Donations: The merchandise comes directly from you, the community! You can drop off your donations at the store during store hours.
Clean out your attic, basement & closets!
CVAN needs:
All Clothes - men, women & children
Household/Housewares - such as kitchen, seasonal, decorations, small appliances, knick-knacks
Accessories - such as shoes, jewelry, purses, belts
Books, DVD's, CD's
Linens
Can't take - TV's, large appliances, mattresses, cribs, car seats, computers, building materials & magazines. If you aren't sure about a donation - give us a call. Thanks!
Click here for more information on donations.
Volunteering: We count on you to help run the store! Click here to visit our volunteer page or call us at the CVAN office at 704.788.1108.
Click here to check out the 2011 renovations at the store!