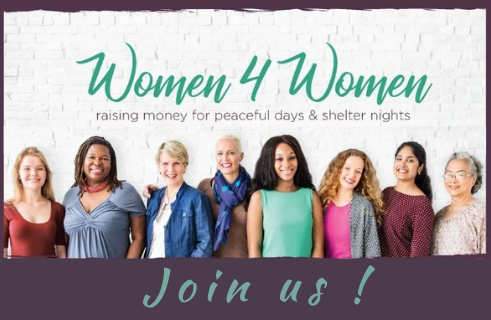 On August 20th, an incredible 500 of us came together for our Women 4 Women Luncheon!
We celebrated CVAN's 40th Anniversary, we celebrated Women 4 Women's 10th Anniversary. And after 3 years since gathering - we shared stories and met with new and old friends. We came together to bring other women hope for peaceful days and shelter nights. Together, we raised an incredible $90,982. And we are all grateful for the additional match from the Tucker Heart, Soul, Mind, and Strength Foundation!
Many thanks to all who were a part!
Click here for our decade of Women 4 Women Luncheon pictures!
---
2022 Honorary Co-Chairs:
Carolyn Tucker
Jacqueline Tucker
Lisa Tucker
2022 Committee:

Hannah Cook, Co-Chair
Hair Dresser
Coretta Grant, Co-Chair
Novant Health
Christine Barrier
NC State, Cooperative Extension Service
Alicia Broadway
City of Concord
Heather Starnes
Cabarrus Co. Sheriff's Office, Retired
Judy Stoy
Richard Petty Driving Experience, Retired
Deb Triece
Retired Educator, Retired
---
2022 Sponsors
Sterling

Stunning


Robin and Alan Davis
Dona and Jerry Hagler
Rosemary and Mike Sullivan
Amazing


Leslie and Christopher Flynn
Barbara and Robin Hayes
Reshell Johnson
Deanna and Norman Shue
Dazzling

Beaver Dam Nursery
Diana and Howard Bentley
Bragg Financial Advisors
Peggy and Carl Comer
Complete Design & Packaging
F & M Bank
Sharon and Ed Heavner
Judy and John Stoy
Jill and Jim Wall
Marvelous


Jeanne A. Dixon
Coretta Grant
Gail and David Holding
Nancy and Joe Hunter
Laurie and Jim Miller
Potter & Company
Fabulous


Lisa Burke
Doughgirls Catering
Carlos Moore Architect, PA
Tamara and Trip Eller
D Evans and Jackie Freeze
Mary Margaret Flynn
Betty & Diane Honeycutt, Allen Tate Realtors
Karen and Robert Mitchell
Laurie McLaughlin
Helen Morrison
Delinda and Rick Rodgers
Deb and Randy Triece
Sylvia Wagoner
Dean Wike
Nina and Jim Wilkerson
PO Box 1749, Concord, NC 28026-1749 ~ 704.788.1108
© 2010-2023, CVAN - Cabarrus Victims Assistance Network