COVID-19 update:
CVAN Services:
Services: still up and running: 24-Hour Hotline and Shelter Services, Court Program and Counseling through the Hotline. Services currently re-opening: Outreach Center; Services temporarily suspended: Support Groups; Jail Program; Teen Program.
CVAN Thrift Store:
The Store is re-opened for Donations and Shoppers: Tuesday – Saturday (we are not currently open Monday) Go to: Thrift Store page for new guidelines.

Thank you.
---
October is Domestic Violence
Awareness Month
---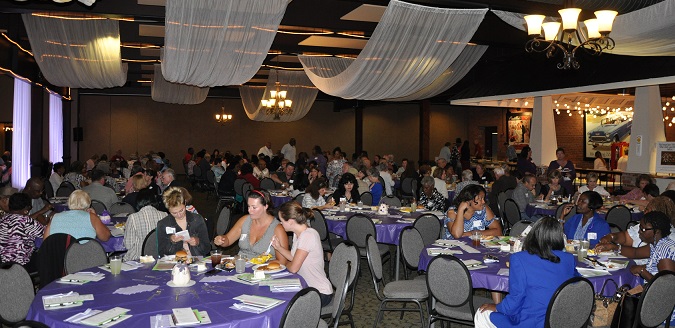 And, each year we celebrate with our Domestic Violence Awareness BBQ!
Last October, the CVAN family came together to enjoy good food, good company and to celebrate what we have done together. We also heard personal stories, learned more about domestic violence, and re-committed for the coming year. Many thanks to all who came together! And, for those who couldn't make it but made a special gift for Domestic Violence Awareness Month and were with us in spirit, thank you!
And, Mark your Calendar for Thursday 10/1/20!
---
2020 Committee:
Angela Colombero, Chair
B.A. Hoft
Diana Bentley
Aon Risk Solutions
Tamara Eller
Creative Testing Solutions
Beryl Perkins
Maxim Healthcare
Heather Starnes
Cabarrus County Sheriff's Office
Rosemary Sullivan
Tooling Innovations
Beryl Torrence
Kannapolis City Schools
2019 Sponsors:
Stunning


Robin and Alan Davis
Dona and Jerry Hagler
Sharon and Ed Heavner
Shoe Show, Inc.
Rosemary and Mike Sullivan
Amazing


Mike and Loretta Coltrane
Leslie and Christopher Flynn
Barbara and Robin Hayes
Gail and David Holding
Deanna and Norman Shue
Wells Fargo
Dazzling

Diana and Howard Bentley
F & M Bank
Rosemary and James Loftus
Laurie and Jim Miller
S & D Coffee & Tea
Judy and John Stoy
31 Construction
Jill and Jim Wall
Marvelous


Beaver Dam Nursery
Peggy and Carl Comer
Complete Design & Packaging
Jeanne and Thomas Dixon
Coretta and Bernard Grant
Kay, Sonny and Katie Helms
Nancy and Joe Hunter
Reshell Johnson
Tina and Jon Tyler
Fabulous


Cathy Altmann
Bryan Cooks Tree Service
Lisa Burke
Karen and Vernon Byrd
Carlos Moore Architect, PA
Concord Printing Company
Doughgirls Catering
Michele Durkin
Tamara and Trip Eller
Foster Animal Hospital
D Evans and Jackie Freeze
Mary Margaret Flynn
Eileen & Bill Goolsby
Karen and David Harper
Betty & Diane Honeycutt, Allen Tate Realtors
Its All About You Salon
Sheree and Robert Kear
Bess and Kent Kercher
Laurie McLaughlin
Karen and Robert Mitchell
Margaret and Brian Moore
Helen Morrison
Annette and Scott Moss
Potter & Co., CPAs
Mary Anne and Charles Ritchie
Delinda and Rick Rodgers
Salon Autumn
Deb and Randy Triece
Sylvia Wagoner
Martha and Richard Walters
Ginger and Jonathan Zsambeky
---
In our community - we do talk about Domestic Violence. Because first we listened to battered women. And since we began in 1982, we come together to say domestic violence is wrong and we are here for battered women and their children.

Take one minute to listen - to an actual 911 domestic violence call that became the first PSA for domestic violence during the Super Bowl.



The national NO MORE PSA Campaign is spearheaded by the Joyful Heart Foundation in partnership with NO MORE.
---
10 things you may not know
about Domestic Violence and CVAN

In 35 years, CVAN provided safety, shelter and support to 30,134 women and children.
"Rule of Thumb" comes from an old North Carolina law that said a man could beat his wife with a stick, provided it was no wider than his thumb.
CVAN's newest program began in February 2013 - our Women's Jail Program. We do weekly domestic violence educational classes at the Cabarrus County Detention Center.
VAWA - the Violence Against Women Act - was a landmark federal law that passed 20 years ago. It created funding, legislation and discussion that impacted Shelters, law enforcement and spurred a National Domestic Violence Hotline - 1-800-799-SAFE.
In August, 1984, CVAN opened our Shelter. This summer, we had 4 children celebrate birthdays while staying in Shelter. The youngest turned one.
Domestic Violence affects a woman's health in less obvious ways: Women who have experienced domestic violence are 80 percent more likely to have a stroke, 70 percent more likely to have heart disease and 60 percent more likely to have asthma than women who have not.
The first Battered Women's Shelter in the United States opened in St. Paul, Minnesota in 1973.
CVAN is an acronym for Cabarrus Victims Assistance Network - that's how we incorporated on September 10, 1981 - our "birthday" as an organization.
October 8, 1984, over one-third of all American television sets tuned into the premiere of "The Burning Bed." Based on the true story of a battered woman, Francine Hughes.
Your support does matter: A recent Shelter Resident wrote, "CVAN has given me a life that will keep on giving for eternity."
---
Click here to view and print off the Domestic Violence Awareness Matrix and see how you can explore the many ways that you can be more involved with CVAN.
The most important thing to do is to Listen & Learn:
Listen:
Listen to her - it's one of the most powerful things you can do.
Give her our 24-hour hotline number (704.788.2826) to explore her options; talk about resources; and make a safety plan. Our hotline is confidential.
Know that she may not be ready to talk with us right away. Every woman has her own process.
You can also call our 24-hour hotline (704.788.2826) you can talk with an Advocate about her situation; our services and how to help her.
Know that she may not be ready to leave. Leaving is difficult and dangerous and is a unique process for each woman. Only she knows when she is ready to leave safely.
Learn:
A woman is battered every 15 seconds in the United States.
Between 85%-95% of domestic violence victims are women.
Approximately 1 in 3 adolescent girls are abused in a dating relationship.
Battering can happen to any woman. If you stereotype, then you will miss the battered woman in front of you.
PO Box 1749, Concord, NC 28026-1749 ~ 704.788.1108
© 2010-2020, CVAN - Cabarrus Victims Assistance Network